The spongy eggplant is classified as a berry or fruit but is typically used as a vegetable in dishes around the world. For centuries, people have relied upon this food for its nutritional and medicinal value.
An encyclopedia of traditional Chinese medicine from China's Ming Dynasty, the "Compendium of Materia Medica," claims the eggplant uniquely treats fever with chills, enhances blood circulation, disperses stagnation, relieves pain, reduces swelling, and broadens the intestines (to prevent constipation).
Modern nutritionists say eggplant is a superfood because it is low in calories and sodium, and rich in dietary fiber, vitamins, and minerals. Every
100 grams of eggplant
 contain:
25 calories
5.3 grams of carbohydrates
2.7 grams of dietary fiber
221 milligrams of potassium
16 milligrams of calcium
29 milligrams of phosphorus
15 milligrams of magnesium
Moreover, eggplant also contains vitamin B, vitamin C, and vitamin "P." The vitamin P is also known as a bioflavonoid, composed of citrin, rutin, hesperidin, flavones, and flavonals.
Dr. Yalan Tsai of Taiwan's Taichung Veterans General Hospital provided the following benefits of eating eggplant to The Epoch Times on March 7:
Rich in Antioxidants and Help Prevent Dementia
The bright purple color of eggplant comes from flavonoid glycosides or antioxidants that are useful in combating dementia. These help protect brain cells and prevent age-related memory loss and cognitive degeneration.
A study published in the Journal of Food Biochemistry found that the eggplant fruit diet modulates the activities of the enzymes in purinergic, monoaminergic, and cholinergic enzyme systems associated with Alzheimer's disease-like symptoms. The authors concluded that "eggplant fruits could serve as a holistic measure in the prevention of diabetes-related complications such as neurodegenerative disease."
Prevent Macular Lesions in Eyes
Eggplant is rich in lutein, a deep yellow pigment found in plants and egg york that has anti-inflammatory properties. It helps to inhibit free radicals and prevent macular lesions. It also reduces the harmful effects of blue light on the eyes caused by the sun, fluorescent lighting, and LED devices.
A
study published in Nutrients
 found that Solanum melongena L. (EPX), an extract of eggplant, "protected A2E-laden ARPE-19 cells against blue light-induced cell death via attenuating reactive oxygen species." According to the study authors, "In vivo, EPX administration in BALB/c mice reduced the fundus damage and degeneration of the retinal layer in a blue light-induced retinal damage model."
Help to Lose Weight and Prevent Diabetes
Since eggplant is low in calories and high in nutrients and fiber, it is an excellent aid for weight loss. The fiber contained in eggplant helps slow down the digestion rate of the intestines and adds a sense of satiety to reduce overall caloric intake.
A review paper published in the Iranian Journal of Basic Medical Sciences showed that eggplant can control diabetes through its antioxidative properties and inhibition of α-amylase and α-glucosidase activity. Also, eggplant may show protective effects on hyperlipidemia and obesity via the induction of lipoprotein lipase activity and the reduction of pancreatic lipase activity. Eggplant can also be useful in the treatment of metabolic syndrome and its complications.
Beneficial in Fighting Inflammation and Cancer
Eggplant contains a compound called solasodine rhamnosyl glycosides (SRGs). Some animal studies have shown that SRGs can kill cancer cells and reduce the recurrence of certain types of cancer. In addition, anthocyanins in eggplant can also inhibit tumor angiogenesis, reduce inflammation, and inhibit the enzymes that spread cancer cells.
A study published in Mutation Research mentioned that, in response to hydrogen peroxide, cells treated with six eggplant extracts prevented DNA human lymphocytes. The study authors concluded that eggplants have the potential to provide health benefits associated with prevention or reduced risk of developing chronic diseases, such as cancer.
Precautions About Eggplant
Despite the benefits of eating eggplant, Chinese medical doctors have also cautioned against eating too much because doing so could potentially be detrimental to some people.
For insight into this opposing view, The Epoch Times spoke with Dr. Zhen Lixue, the director of Japan's Heisei Acupuncture Therapy Center in Okayama on March 5. He said that while eggplant is beneficial to the body, it should be eaten in moderation.
Zhen said the focus of traditional Chinese medicine is to keep the body in balance. For example, eggplant is a food with cool nature and is ideal for consumption during warm months to help cool the body and relieve the summer heat. Eggplant is especially good for people with constipation, bleeding hemorrhoids, and damp fever, as well as those who are prone to heat rash and boils.
According to Zhen, "Chinese medicine views women as yin in nature, and tend to have cold constitutions, so they should not eat foods of cool nature regularly." He also said, "people who have a weak spleen and stomach, and are prone to diarrhea and loose stools, should also watch how much eggplant they eat." Zhen warned that eating eggplant before surgery is not a good idea since doing so may affect the speed of recovery.
A second medical encyclopedia from China's Ming Dynasty, the "Dian Nan Ben Cao," mirrors the same precautions about the eggplant as Li Shizhen said in "Compendium of Materia Medica." While this inherently cold food is beneficial to the body, eating too much has the potential of "causing chronic diseases, sores and scabies, abdominal pain, and diarrhea, and may also be harmful to a woman's uterus."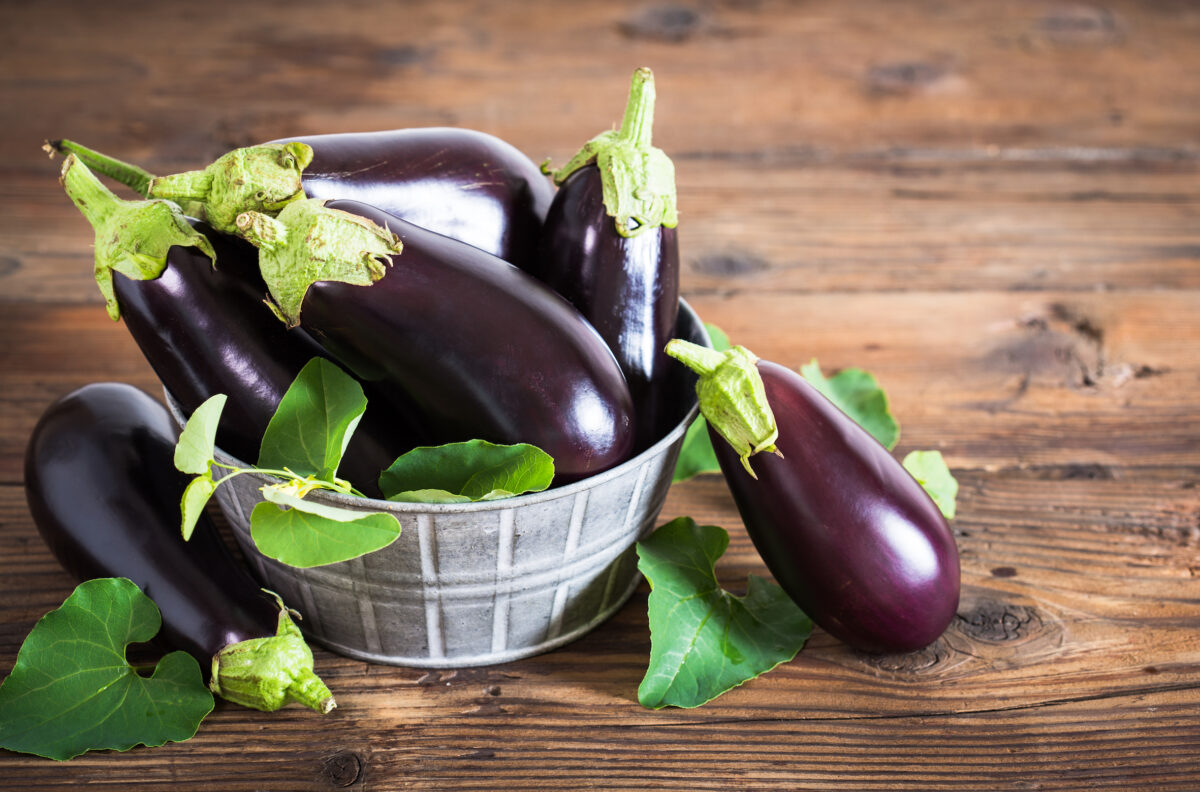 Important Notice: This article was originally published at www.theepochtimes.com by Ellen Wan where all credits are due.
Disclaimer
The watching, interacting, and participation of any kind with anything on this page does not constitute or initiate a doctor-patient relationship with Dr. Farrah™. None of the statements here have been evaluated by the Food and Drug Administration (FDA). The products of Dr. Farrah™ are not intended to diagnose, treat, cure, or prevent any disease. The information being provided should only be considered for education and entertainment purposes only. If you feel that anything you see or hear may be of value to you on this page or on any other medium of any kind associated with, showing, or quoting anything relating to Dr. Farrah™ in any way at any time, you are encouraged to and agree to consult with a licensed healthcare professional in your area to discuss it. If you feel that you're having a healthcare emergency, seek medical attention immediately. The views expressed here are simply either the views and opinions of Dr. Farrah™ or others appearing and are protected under the first amendment.
Dr. Farrah™ is a highly experienced Licensed Medical Doctor certified in evidence-based clinical nutrition, not some enthusiast, formulator, or medium promoting the wild and unrestrained use of nutrition products for health issues without clinical experience and scientific evidence of therapeutic benefit. Dr. Farrah™ has personally and keenly studied everything she recommends, and more importantly, she's closely observed the reactions and results in a clinical setting countless times over the course of her career involving the treatment of over 150,000 patients.
Dr. Farrah™ promotes evidence-based natural approaches to health, which means integrating her individual scientific and clinical expertise with the best available external clinical evidence from systematic research. By individual clinical expertise, I refer to the proficiency and judgment that individual clinicians acquire through clinical experience and clinical practice.
Dr. Farrah™ does not make any representation or warranties with respect to the accuracy, applicability, fitness, or completeness of any multimedia content provided. Dr. Farrah™ does not warrant the performance, effectiveness, or applicability of any sites listed, linked, or referenced to, in, or by any multimedia content.
To be clear, the multimedia content is not intended to be a substitute for professional medical advice, diagnosis, or treatment. Always seek the advice of your physician or other qualified health providers with any questions you may have regarding a medical condition. Never disregard professional medical advice or delay in seeking it because of something you have read or seen in any website, video, image, or media of any kind. Dr. Farrah™ hereby disclaims any and all liability to any party for any direct, indirect, implied, punitive, special, incidental, or other consequential damages arising directly or indirectly from any use of the content, which is provided as is, and without warranties.