A recent study by researchers at Pennsylvania State University has found that broccoli contains certain molecules that help to protect the lining of the small intestine of animal models, thereby preventing the development of disease.
Broccoli is full of vitamins C, A and K and is rich in fibre and potassium. This green vegetable can also help lower high blood pressure and is known to decrease the risk of cancer.
"We all know that broccoli is good for us, but why? What happens in the body when we eat broccoli?" one of the authors of the study Gary Perdew from Penn State said.
"Our research is helping to uncover the mechanisms for how broccoli and other foods benefit health in mice and likely humans, as well. It provides strong evidence that cruciferous vegetables, such as broccoli, cabbage, and Brussels sprouts should be part of a normal healthy diet."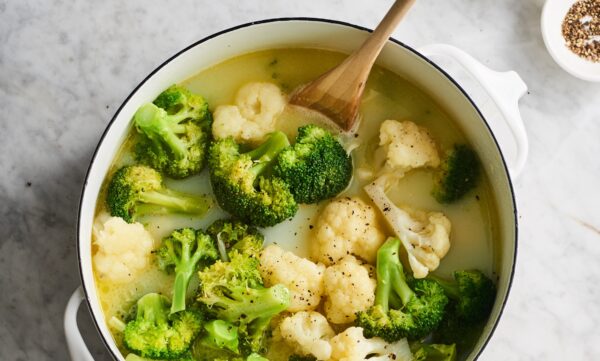 Published in the journal Laboratory Investigation, the team discovered that molecules in broccoli, called aryl hydrocarbon receptor ligands, bind to a receptor within mice and this initiates a variety of activities to inhibit incidences of disease.
They fed a group of mice a diet containing 15 percent broccoli—equal to around three and a half cups per day for humans—and fed a control group a diet that did not contain broccoli.
They then analyzed their tissues to determine binding activity, quantities of various cell types and mucus concentrations, among other factors, in the two groups.
The team found that mice that weren't fed broccoli had decreased amounts of protective mucus, decreased Paneth cells and lysosome production, and decreased number of enterocyte cells. These cells line the intestinal wall and prevent food and bacteria from entering the body while allowing beneficial water nutrients to pass through.
"The gut health of the mice that were not fed broccoli was compromised in a variety of ways that are known to be associated with disease," Perdew said.
"Our research suggests that broccoli and likely other foods can be used as natural sources of ligands and that diets rich in these ligands contribute to the resilience of the small intestine."
These findings show that a simple diet modification can transform the "cellular and metabolic repertoire of the gastrointestinal tract."
Clot-Busters
Earlier research by Australians has found that broccoli may even help reduce the risk or even reverse the effects of stroke.
Sydney-based Heart Research Institute (HRI) found that isothiocyanates, a group of chemicals found in cruciferous vegetables such as broccoli, brussels sprouts, cauliflower, bok choy, and cabbage, could reduce bad blood clotting, the most common cause of stroke.
According to a survey of nearly 7,000 Americans conducted by Green Giant, the sweet and tender broccoli is America's favorite veggie.
Out of the 50 states, 36—plus Washington, D.C.—chose broccoli as their favorite vegetable.
Important Notice: This article was originally published at www.theepochtimes.com by Jessie Zhang where all credits are due.
Disclaimer
The watching, interacting, and participation of any kind with anything on this page does not constitute or initiate a doctor-patient relationship with Dr. Farrah™. None of the statements here have been evaluated by the Food and Drug Administration (FDA). The products of Dr. Farrah™ are not intended to diagnose, treat, cure, or prevent any disease. The information being provided should only be considered for education and entertainment purposes only. If you feel that anything you see or hear may be of value to you on this page or on any other medium of any kind associated with, showing, or quoting anything relating to Dr. Farrah™ in any way at any time, you are encouraged to and agree to consult with a licensed healthcare professional in your area to discuss it. If you feel that you're having a healthcare emergency, seek medical attention immediately. The views expressed here are simply either the views and opinions of Dr. Farrah™ or others appearing and are protected under the first amendment.
Dr. Farrah™ is a highly experienced Licensed Medical Doctor certified in evidence-based clinical nutrition, not some enthusiast, formulator, or medium promoting the wild and unrestrained use of nutrition products for health issues without clinical experience and scientific evidence of therapeutic benefit. Dr. Farrah™ has personally and keenly studied everything she recommends, and more importantly, she's closely observed the reactions and results in a clinical setting countless times over the course of her career involving the treatment of over 150,000 patients.
Dr. Farrah™ promotes evidence-based natural approaches to health, which means integrating her individual scientific and clinical expertise with the best available external clinical evidence from systematic research. By individual clinical expertise, I refer to the proficiency and judgment that individual clinicians acquire through clinical experience and clinical practice.
Dr. Farrah™ does not make any representation or warranties with respect to the accuracy, applicability, fitness, or completeness of any multimedia content provided. Dr. Farrah™ does not warrant the performance, effectiveness, or applicability of any sites listed, linked, or referenced to, in, or by any multimedia content.
To be clear, the multimedia content is not intended to be a substitute for professional medical advice, diagnosis, or treatment. Always seek the advice of your physician or other qualified health providers with any questions you may have regarding a medical condition. Never disregard professional medical advice or delay in seeking it because of something you have read or seen in any website, video, image, or media of any kind. Dr. Farrah™ hereby disclaims any and all liability to any party for any direct, indirect, implied, punitive, special, incidental, or other consequential damages arising directly or indirectly from any use of the content, which is provided as is, and without warranties.