These small habits will make a big difference in your weight loss efforts.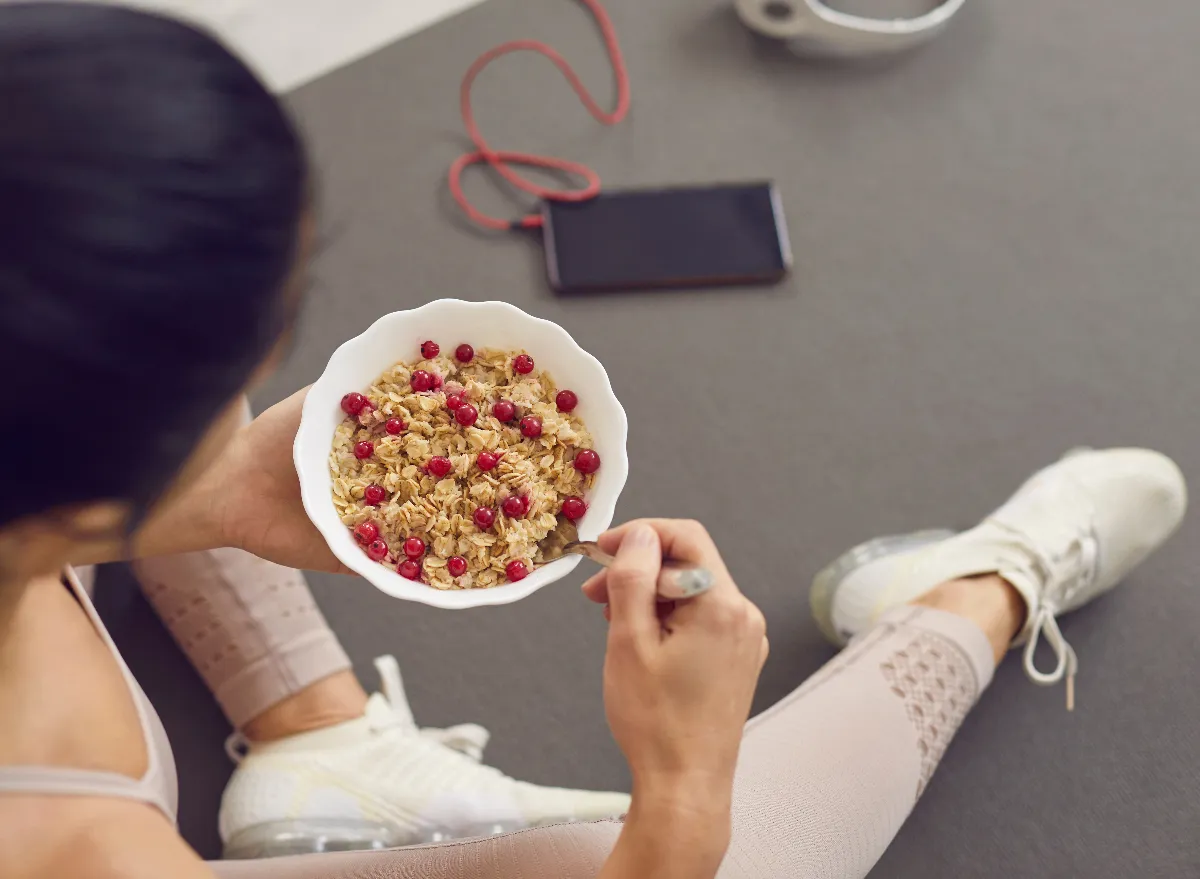 If you're unhappy with your progress when you step on the scale, it's time to make some changes to your daily routine. Diet and exercise both play a major role in shedding excess fat, and we have the expert-approved scoop you'll want to hear. We spoke with Melissa Mitri, MS, RD nutrition writer and owner of Melissa Mitri Nutrition, who shares with us five little things you can do every day to lose a lot of weight. Add these small habits to your daily routine for a big difference in your weight loss efforts. Keep reading to learn all about them, and next, don't miss The 1-Month Weight Loss Challenge for a Slimmer You.
Increase Your Protein Intake At Breakfast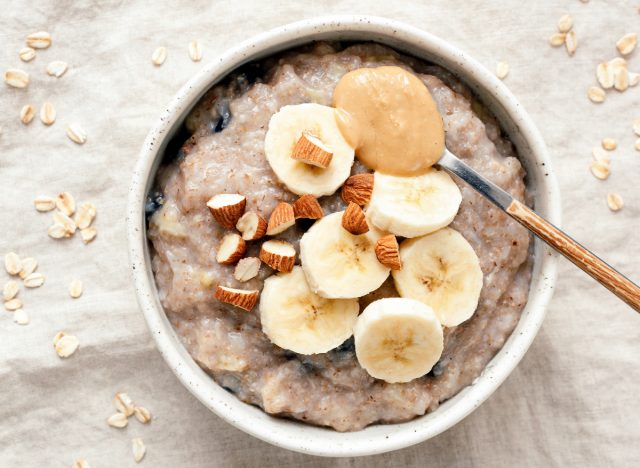 There are plenty of studies out there associating protein consumption with weight loss. For instance, research published in The American Journal of Clinical Nutrition states that higher-protein diets have been praised for being successful ways to address obesity.
Cut Back On The Amount Of Alcohol You Consume
Your favorite bottle of white wine or go-to fruity cocktail is, unfortunately, not your friend if you're looking to lose weight. As a matter of fact, drinking alcohol is a surefire way to fill you up on empty calories!
Limit Added Sugar
If you want to lose a lot of weight, another thing to nix is added sugar. Items like juice, soda, energy drinks, sweetened coffees, sweets, protein bars, flavored yogurts, and other packaged goods are chock-full of added sugars you should avoid.
"Look for 'added sugar' on the label, and aim for less than 24 grams per day if you're a woman and less than 36 grams for a man," Mitri suggests.
Hydrate—Especially Before Meals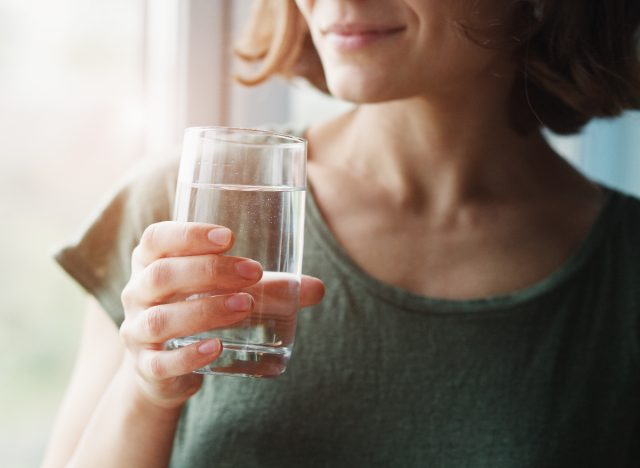 According to Hub At Work, Johns Hopkins University, drinking sufficient water can speed up your metabolism, act as an appetite suppressant, and make your workout sessions more productive. These are all key factors that can aid in your weight loss efforts.
"Drinking more water throughout the day promotes weight loss, especially when you drink a glass before your meals," Mitri explains. "Water helps improve digestion, gives you energy, and curbs your appetite. One research study showed that those who drank eight ounces of water before a meal ate less and felt more satisfied."
Track Your Fitness And Diet Habits
Staying on top of your exercise and diet habits from the get-go helps you track what you're doing and what you're not doing. According to Mitri, "This can give you great insight into what to change right away so you can stop the key habits stalling your weight loss. For example, maybe you're mindlessly snacking or overeating at dinner, and tracking your eating habits will help you to determine this sooner."
Important Notice: This article was originally published at www.eatthis.com by Alexa Mellardo where all credits are due.
Disclaimer
The watching, interacting, and participation of any kind with anything on this page does not constitute or initiate a doctor-patient relationship with Dr. Farrah™. None of the statements here have been evaluated by the Food and Drug Administration (FDA). The products of Dr. Farrah™ are not intended to diagnose, treat, cure, or prevent any disease. The information being provided should only be considered for education and entertainment purposes only. If you feel that anything you see or hear may be of value to you on this page or on any other medium of any kind associated with, showing, or quoting anything relating to Dr. Farrah™ in any way at any time, you are encouraged to and agree to consult with a licensed healthcare professional in your area to discuss it. If you feel that you're having a healthcare emergency, seek medical attention immediately. The views expressed here are simply either the views and opinions of Dr. Farrah™ or others appearing and are protected under the first amendment.
Dr. Farrah™ is a highly experienced Licensed Medical Doctor certified in evidence-based clinical nutrition, not some enthusiast, formulator, or medium promoting the wild and unrestrained use of nutrition products for health issues without clinical experience and scientific evidence of therapeutic benefit. Dr. Farrah™ has personally and keenly studied everything she recommends, and more importantly, she's closely observed the reactions and results in a clinical setting countless times over the course of her career involving the treatment of over 150,000 patients.
Dr. Farrah™ promotes evidence-based natural approaches to health, which means integrating her individual scientific and clinical expertise with the best available external clinical evidence from systematic research. By individual clinical expertise, I refer to the proficiency and judgment that individual clinicians acquire through clinical experience and clinical practice.
Dr. Farrah™ does not make any representation or warranties with respect to the accuracy, applicability, fitness, or completeness of any multimedia content provided. Dr. Farrah™ does not warrant the performance, effectiveness, or applicability of any sites listed, linked, or referenced to, in, or by any multimedia content.
To be clear, the multimedia content is not intended to be a substitute for professional medical advice, diagnosis, or treatment. Always seek the advice of your physician or other qualified health providers with any questions you may have regarding a medical condition. Never disregard professional medical advice or delay in seeking it because of something you have read or seen in any website, video, image, or media of any kind. Dr. Farrah™ hereby disclaims any and all liability to any party for any direct, indirect, implied, punitive, special, incidental, or other consequential damages arising directly or indirectly from any use of the content, which is provided as is, and without warranties.